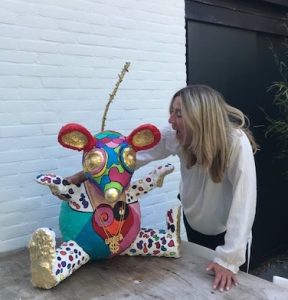 Annegien de Bruijn (1970), born into a family of architects and interior designers, sat from an early age next to her father at his drawing board. She learns from an early age to look with a certain view at the world around us, being aware of lines and shapes.
She has studied psychology at the UvA (University of Amsterdam), she took several art classes with artists and institutes and finally studied Spatial Design and Sculpture at Crejat in Alkmaar. Her interest in people's behaviour and emotions are often reflected in her sculptures. Events or news items that amaze or intrigue her are  the inspirations for her sculptures. She chooses whichever stylistic approach is best suited to convey the meaning and emotions of a piece.
"Creating is my passion. Figurative sculpting and conceptual art are my main motives. My work is mainly based on themes such as human behavior, emotions and contemporary issues. I like to use different sculpture techniques. I just love the challenge of variety and discovering new materials and styles. These moments make you feel totally absorbed and have no sense of time."
Please feel free to ask about the possibilities!
Contact us